Southwest Houston Test Center is authorized to administer these certification exams: 

AHLEI
(Hospitality and Lodging)

ServSafe® 
(Food Handler and Manager)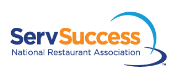 ServSuccess® 
(Restaurant Professionals)
To prepare for your exam day, please be sure that you have ordered your specific exam through the organization's website (i.e AHLEI, ServSafe, ServSuccess) and you have received a student exam access code.  
Bring this access code and your government-issued ID with you to the test center on exam day. 
To book your exam, please select "Proctored Exam", choose your date and time, and complete the Testing Services Booking Form.